Hospital marketing teams learned a lot over the past two years thanks to COVID-19. Professionals quickly learned how to adapt and roll with the new "norm"—including the need to build more patient-centric digital experiences.
In a 2021 Patient Pop survey, researchers found that 51% of patients prefer a digital connections for five fundamental interactions: scheduling an appointment, filling out forms, asking providers questions, paying bills, and accessing their personal health information records.
So what other hospital marketing trends does 2022 have in store? Let's find out.
Lessons learned (and what's coming in 2022)
Hospitals and healthcare providers learned a lot about "going digital" with more services than before. Telehealth services grew exponentially due to the peaks of COVID-19 in 2020 and 2021.
With everything we've learned so far (and as we look ahead into 2022), the ever-changing world of patient marketing presents new opportunities and channels for hospital marketing. Quick examples already this year include:
Telemedicine is here to stay
Due to closures and public health policies in 2020-2021, patients and providers quickly became familiar with telehealth and telemedicine options.
As we navigate new variants, vaccinations, and the lifting of masks and quarantining policies, patients still expect to access healthcare options at their fingertips.
What it means for healthcare marketers
The good news is that your patients want to hear from you through digital channels, like
Appointment confirmation emails and reminders
Text confirmations and reminders
Follow up surveys for the patient experience via email or text
This is an excellent opportunity for hospital marketing teams to strategically connect with patients. However, if you have disjointed processes and sub-par systems to utilize these communications tools, this will also show up in your patient experience.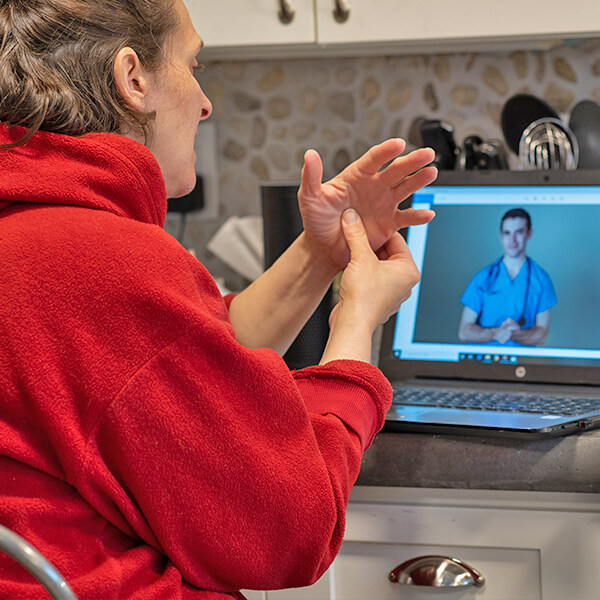 Effective communication will be essential
"Do patients need full bladders or empty ones before their ultrasound?"
"How long after knee replacement surgery will it take to be able to stand up?"
"Where should I park if I am getting blood drawn?"
"My nurse was amazing. Where can I give him a glowing review to thank him?"
Patients have questions. The best hospital marketing strategies will address these questions and more. Why? People do their research now before they decide on a provider or location.
Your hospital website, medical marketing emails, and social media strategy work together to paint a picture of what patients can expect at your hospital. Valuable details that help their experience go more smoothly are best for the user experience.
Speaking of patient experience …
Happy patients are the biggest advocates in your community. Support their experience with care providers and staff by staying friendly and helpful online.
Check in with your current patients
The primary goal of hospital marketing may be to gain new patients, but we can't forget about the existing ones. Be sure to incorporate strategies that continue to nurture current patients throughout their journey.
Personalize email and text notifications
Make patients feel connected and cared for by including personalized information in their hospital communications. Use their first name in the greeting. Include their appointment type and check-in location specific to their services.
Update your business listings
Have you ever found the phone number for a local business via a Google Business listing, only to have the line ring dead? Or click the link to a company website, and it's broken? I think we all have. It's frustrating and wastes our time.
Save your patients from these experiences by keeping a pulse on your business listing and ensuring they have accurate information.
Lead generation campaigns will evolve
Tried-and-true methods for audience targeting are changing in 2022. Cookie tracking is being scrutinized as users want more say in what data is stored and for how long… For hospital marketing, these have the potential to bring significant changes to our lead-gen methodologies.
Use retargeting for existing leads
With data tracking in the spotlight, retargeting opportunities as we know them now could be in for big changes. In the meantime, capitalize on pageview retargeting and site visitor retargeting strategies on Facebook and Google ads.
Retargeting may look more like list segmentation for your existing contact list. When you collect data intentionally from contacts, such as asking them what topics they are interested in learning about on a subscribe form, they give you explicit permission to have that segmentation about them and provide relevant information.
Keep an eye on cookie tracking and retargeting trends across the year.
Educate and promote self-referral
One of the great opportunities with hospital marketing is the patient education portion. Help patients better understand their pain, treatment options, and who they should see for care at your hospital.
When a patient self-diagnoses an illness or condition and then selects one of your providers to make an appointment, they feel more ownership of that journey and could be more likely to close and become loyal patients. You'll just have to provide them with the content they need to start learning on your website in the awareness phase of the customer journey.
SEO and content marketing remain a priority
Paid strategies may be shifting in 2022, but so are SEO practices. Search engines are getting even more intelligent, honing in on mobile experiences for users and making it harder and harder for hacky SEO tricks to pay off.
In other words, by continuing to produce quality content relevant to your audience, you'll be making power moves with SEO in the coming months.
Local SEO
Be sure to optimize your local SEO listings, like Google Business Profile, to increase traffic from local searches. Also, ensure your local schema is optimized (NAP – name, address, phone number) as a baseline for your structured database markup.
Content patients can actually use
One critical mistake in hospital marketing is when content calendars push out the types of content you want to share rather than the content that your audience wants to see.
Keep a pulse on keyword trends related to your services and make smart strategies around popular terms that your patients would be using and looking for.
FAQs about hospital marketing
A lot is changing in 2022 with healthcare marketing. Check out some FAQs below.
What are the challenges to successful hospital marketing?
Now more than ever, patients are in the driver's seat when it comes to their healthcare. With hospitals now being required to publish their pricing and virtual databases like HealthGrades, making it easy to sort and find new providers, patients are influential online. We're competing for their attention with many other items on their to-do lists.
Our job will be to make it as quick, easy, and pleasant as possible for patients to find information and manage appointments at your hospital.
How can health systems improve their healthcare marketing strategy?
Design your marketing strategy with a patient-first approach. Getting new patients and retaining existing patients are two of the main goals for healthcare marketing, so framing all marketing decisions with those two goals in mind will keep you on the right track.
What role does branding play in a new hospital marketing plan?
Keep your branding consistent across all of your marketing efforts. When patients receive a text reminder or see a post on Facebook, it should feel like a seamless experience. If your branding is making your skin crawl, 2022 is a great year to consider a rebrand or a refresh as part of an overall healthcare marketing plan. Many organizations and companies take these kinds of opportunities to adjust their brands to fit changing times.
Ready to rise up online?
Whether you liked it or not, hospital marketing took a hard swing into the digital realm over the past two years due to COVID-19. You're likely more familiar with how to manage your website content (if you even can!), where to manage your business listing details, and how to trigger special alert emails to your contact lists.
Make this year a marketing success
Our experienced team is ready to take your hospital marketing strategy to the next level. Let's connect to better understand your audience, goals, and challenges to craft a solution that works for you.
You might also like …