Here at Indianapolis website design firm TBH Creative we have resources for all aspects of website development from discovery through design; from application development to website buildout. From time to time we run into a situation where our client is already tied to a development group and is just coming to us for our design expertise (or vice-versa)
.
How can you help separate design and development teams work well together?
Here are two lessons from TBH Creative's experience.
1. Clear communication from the start
It's important to make sure that everyone has the same expectations from the very beginning. We recommend setting up a meeting to discuss:
What format of files does the developer need from the designer?
How will those files be transferred?
When will the designer have access to the pages for testing and review?
How will design tweaks and revisions be handled during testing?
What is the process when the developer has suggestions on the design related to performance or simplification in development time?
How closely will the final website match the design compositions?
Real life example: IUPPI
The Indiana University Public Policy Institute came to TBH Creative as they were undergoing a significant brand shift. In order to best communicate their expertise and services, they wanted to completely redesign their website making it easier to access their extensive database and presenting a more professional look.
The database is the core of the IUPPI website and is managed by a university development team. As part of Indiana University, the Institute was tied to this application development resource. The challenge was for TBH to work within the university constraints while also meeting the Institute's marketing challenges. TBH Creative worked on the strategy, design and created the HTML/CSS/JQuery and passed to the IU database team. They took the page code and connected to a robust CMS and database for easy client management.
We were successful because we started working with the database team from the very first meeting. They were in the loop long before their services were needed so they knew exactly what was coming and how to prepare their team. "Having the developers involved in the design presentation meetings was a huge help," notes Project Manager Barb Ruess. "They could see what features we were proposing, make recommendations on how to make those work seamlessly, and eliminate any surprises through the process."
Check out the final result:
https://policyinstitute.iu.edu/
2. Present a unified front
It's likely that you know ahead of time that you'll be working together. Make a point of contacting your new partner on this project and schedule a meeting before you meet with the client. Things to discuss at this initial meeting:
Division of responsibilities: It's important to be clear to each other and the client so everyone knows who is responsible for key components. Discuss the details for transferring files, reviewing, feedback, scopes of work, etc.
Best way to communicate: Will you set up a shared Google Drive? Plan on weekly email updates? Talk on the phone every week? We also recommend you plan for "internal" reviews before showing the client so that the client never sees any differences of opinions and you present a more professional image.
Client knowledge: What do you each know about the client and the project? If you're going to be working together, you don't want to leave your partner in the dark (or be the one that's left behind). Share what you know – especially if you've worked with the client before. It will make for a better collaboration.
Real life example: Metropolitan School District of Lawrence Township
Sometimes the client finds a strong development group and that team seeks out TBH Creative as a design partner. Such was the case with the Metropolitan School District of Lawrence Township. MSD Lawrence came to BitWise to develop a robust, flexible website that could accommodate all of their schools and offices – a sum total of 21 different websites. BitWise knew that the design of these websites would be just as important as their development so that they presented a unified front to users. That's when they called TBH Creative.
Bjorn Carlson, Business Development Manager at BitWise notes, "The MSD of Lawrence Township project was a unique collaboration between the school district, the technical and functional expertise of BitWise Solutions, and the user experience and web design capabilities of TBH Creative. While these scenarios can often present distinct challenges, the partnership between BitWise and TBH Creative to deliver an outstanding product for the school district of Lawrence Township proved to be very fruitful. With an extremely well-received and successful end result, Tatum and her crew really demonstrated why TBH Creative is a thought leader in the web design space."
BitWise and TBH Creative came into the project as partners from the very beginning. They clearly understand each other's role in the project and were able to develop a work schedule and divide responsibilities to accomplish the client's goals.
Learn more about this project:
A case study for flexible, functional design.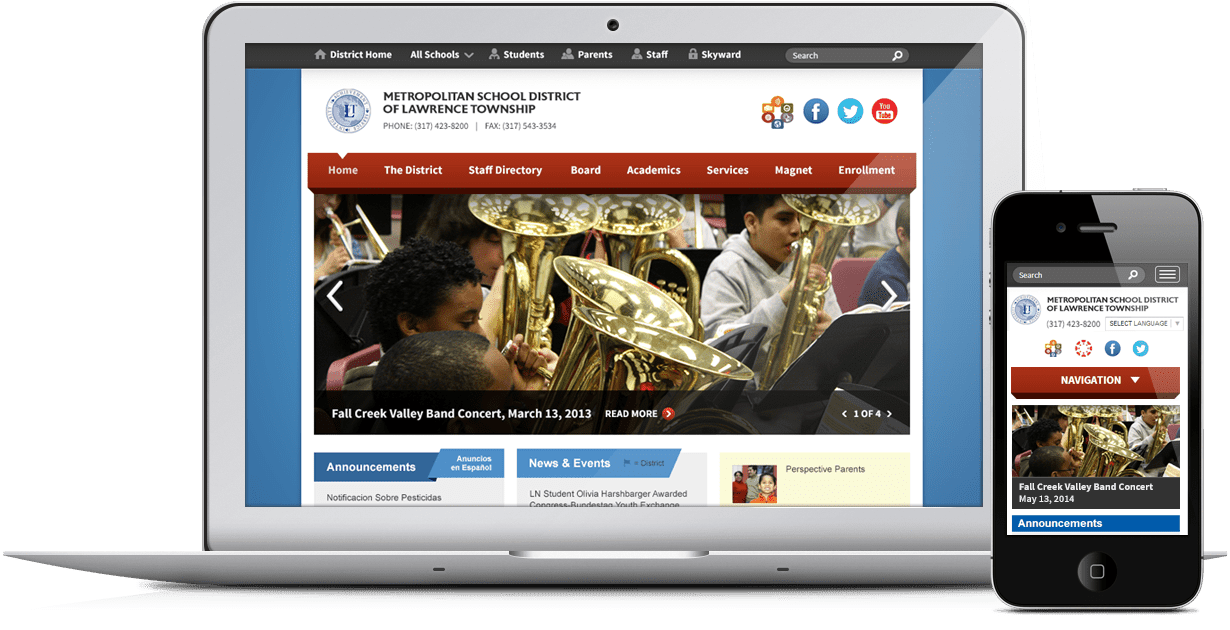 Collaboration between designers and developers can be a positive learning experience where everyone is happy at the end of the day. What happens when it doesn't go quite so smoothly? Stay tuned next month when we reveal some lessons learned from projects that could have been handled better.
---