What do you do when you have 21 different websites and want them all to have a common appearance but a distinct identity?
That was the challenge that the Metropolitan School District of Lawrence Township brought to TBH Creative and their partner on this project, BitWise Solutions.
The MSD of Lawrence Township consists of four early learning centers, 11 elementary schools, two middle schools, two high schools, and a Center for Innovation & Technology. Each of those school facilities needs its own website – and the district needs its own website that ties them all together. "The real challenge wasn't coming up with a consistent look and feel that best represents their image," notes TBH Creative President Tatum Hindman. "The real challenge was keeping that consistent look and feel while also giving each facility the opportunity to use their own pictures, logos and school colors."
Partnering for success
MSD of Lawrence Township called on
BitWise Solutions
to develop a website platform for all of their schools and the main district website. BitWise recognized the design challenge inherent to this project and called on TBH Creative to create a design that was attractive, flexible, and functional. These two Indianapolis website development firms have worked together before when they come across projects that best fit each other's strengths. Together they worked with MSD Lawrence Township to develop a website solution that met each school's needs while also best representing the district as a whole.
Bjorn Carlson, Business Development Manager at BitWise notes, "The MSD of Lawrence Township project was a unique collaboration between the school district, the technical and functional expertise of BitWise Solutions, and the user experience and web design capabilities of TBH Creative. While these scenarios can often present distinct challenges, the partnership between BitWise and TBH Creative to deliver an outstanding product for the school district of Lawrence Township proved to be very fruitful. With an extremely well-received and successful end result, Tatum and her crew really demonstrated why TBH Creative is a thought leader in the web design space."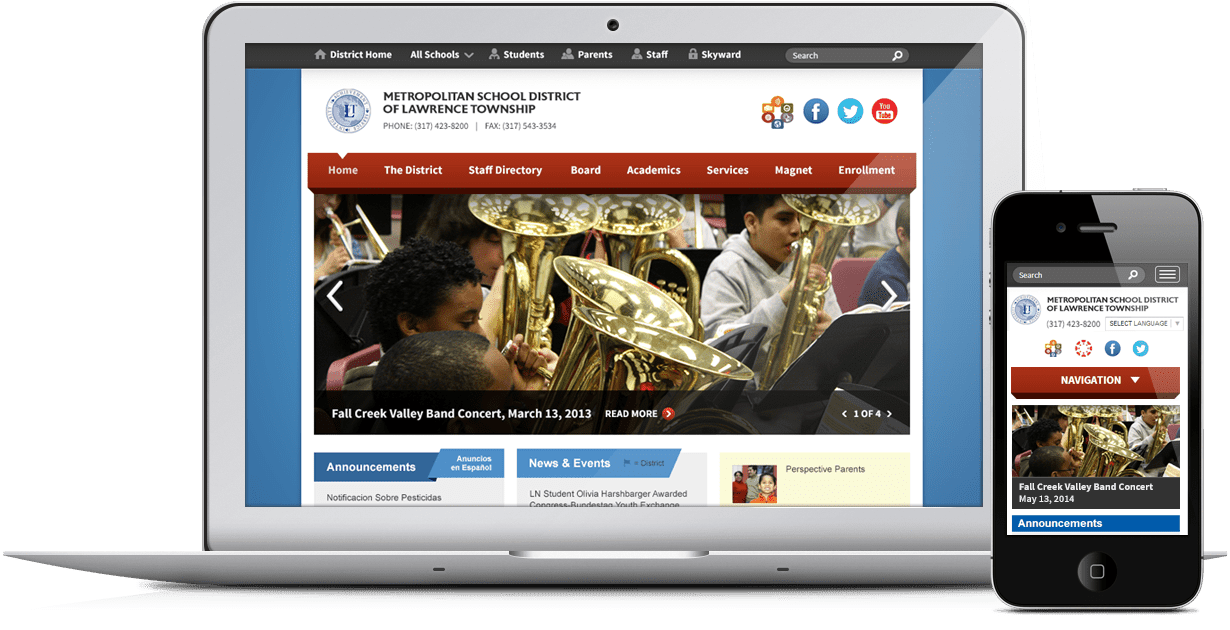 The end result
A design that works well for all schools and offices
TBH Creative created a design that is flexible enough to give each school the freedom to share school colors and pictures of their students and school buildings. At the same time the design layout is the same across all 22 websites so that important information is easy to locate on any school website.
TBH Creative also designed a mega menu that is used on all sites making it easy to navigate between schools – a great feature for parents with students in different grades.
A new way for the district to share timely information
One of the top needs for MSD Lawrence Township was the ability to use their websites to quickly and clearly inform their parents and partners of delays, schedule changes or weather cancellations. TBH Creative developed an alert that feature that does just that on all of the district's websites and is easy for staff to update whenever it is needed. Announcements, events, and news articles can be posted on the Global level (all 17 websites), District level (just the District site), or any individual website or combination therein.
A communication tool that is easy for the schools to use
BitWise used Kentico as the content management system behind the website. This easy-to-use, robust, and flexible CMS empowers each school and office with the ability to make their website truly their own. It was important the content management system was designed to accommodate various user roles and permissions. We were able to build a system that clearly gives access to multiple users:
Primary Webmaster – can edit, approve, administer all sites including global
Secondary Webmasters – have access only to their school's static content
Associates – can create, edit, and remove the following for one or more locations: calendar entries, news articles, staff members, announcements, lists of extra-curricular clubs, and post documents to newsletters section.
TBH Creative was particularly thoughtful in the home page design to give each school flexibility and plenty of places to easily add current information. From the home page of each site you can see that BitWise and TBH were successful! The schools are making great use of the content management system. Each site profiles news, events, awards and more that are happening in their school community.
District home page composition with placeholder images, news, slider, and showing mega menu.
School home page example with alternative color following template.
Interior page sample with optional right column and announcement graphic template.
About the Metropolitan School District of Lawrence Township
Located just outside of Indianapolis, the Metropolitan School District of Lawrence Township serves approximately 15,000 students across four Early Learning Centers, eleven Elementary Schools, two Middle Schools, two High Schools and a Center for Innovation and Technology. Learn more at:
https://www.ltschools.org/
Do you need to pull many different divisions together under one website roof?
TBH Creative can help.
Our services
range from website design to application development, from mobile solutions to social media strategies.
Learn more about our Indianapolis website design firm
and share your Internet challenge with us. We look forward to helping you.