Mobile email use has been steadily increasing over the years. According to recent email statistics, mobile users account for almost half of email opens. However, many email campaigns are still not formatted to display properly on mobile devices.
One way to maximize accessibility across a variety of devices and email clients is to make the switch to responsive email design. We've previously discussed the
fundamentals of responsive email design
, and now we're going to take a closer look at some examples and helpful resources to help further optimize your emails for mobile devices.
Examples of best practices
Make your message clear and concise. On mobile devices, you have a very limited amount of space to capture the reader's attention.
Team Treehouse
uses a brief headline and introduction that's right to the point.
Minimize content. Include only the most important information so that it more easily adapts to small screens with less scrolling required.
TurboTax
links to important content with an icon and short headline, which fits within the entire screen on mobile.
Pay special attention to text size for those smaller screens. Make sure all content is large enough to read on mobile devices.
Maurice
increases the size of the sale details text on smaller devices to make it easier to read.
Create call-to-actions large enough to easily click for smaller screens.
EdX
uses large CTA buttons that are easy to click on small screens.
Use one-column layouts to ensure your content is easily read on mobile.
Adobe's
Creative Cloud emails are in a one column format, which adapts easily to smaller screens.
Hide unnecessary content for smaller screens.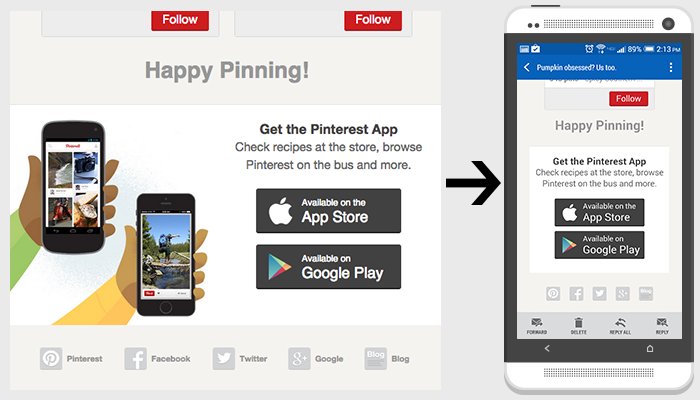 Pinterest
hides non-crucial content to better adapt content to smaller screens.
Tools and resources
For more information, check out this in-depth collection of even more responsive email resources: responsiveemailresources.com
Need help with your email marketing strategy?
TBH Creative offers a variety of
mobile
and
email marketing
services, including responsive email design. We can help optimize your email campaigns to reach a wider audience and generate results.
Contact us
today to get started!