Are your photos telling the right story about your company?
Visual content is powerful, so powerful that
human brains can process a picture 60,000 times quicker than some words
. Not all marketing photography is created equal, though.
Researchers have found that customers connect with images they feel are authentic. These "real" shots, in fact, have been shown to get up to
35% better engagement
, making a convincing business case to invest in relevant, custom imagery as part of your marketing strategy to boost sales and set yourself apart from your competition.
Once you decide to hire a professional photographer, how do you create a photoshoot plan that covers all your bases? Read on for our best tips for building a library of great professional photos.
Know your purpose and set goals
If you haven't written a creative brief for your photoshoot project yet, stop and think about what you want to achieve. Begin by defining what success looks then work backward. If you're stuck with this first photoshoot planning step, try answering questions, such as:
Why are you having a photoshoot? Do you have a specific project in mind to use these images for (e.g., website hero pictures, company directory portraits, or shareable social media snapshots)—or, are you hoping to create a set of multi-purpose, flexible images to be used many different, as-yet-undefined ways?
What type of images are you hoping to get at the end of this shoot? Use your list of must-have photos to figure out which kind of photographer is best suited to help you get an amazing collection of images. Some photos are great at warming people up and making them feel comfortable getting their portrait taken (and they can usually also help you make any appropriate on-site makeup and hair arrangements if needed). Others excel at fading into the background and taking authentic action shots of services and products in use. There are even photographers with a specialty in capturing products and can help you with props and other staging must-haves.
When do you need the photos? Do you need photos taken so they're ready to use immediately without any additional adjustments or have you budgeted time and money for post-processing?
Where will you take the photos? Are you shooting in more than one location? Do you need any approval to shoot at the location you have in mind? Is there space to set-up any necessary equipment like lights? Are there any restrictions regarding how anything in the location is photographed? If you're shooting outdoors, have you made a back-up plan in case of inclement weather?
Determine photoshoot must-haves
Have any special needs or specific formatting requests? Give your photographer notes on angles, framing, and other details well before your shoot to make sure you get what you need.
For example, providing detailed specs like "shoot images that are horizontal with a focal point on the left since the website components will overlap on the right" make it clear what you're expecting and need.
Some other photoshoot planning topics might include:
Where are these photos going to be used? Do you need extra background on all sides for cropping? Do you need model releases?
What types of photos and orientations are needed? What does the ideal photo composition look like: horizontal, vertical, or square?
What feeling should these images convey? Elements like lighting and staging can dramatically change the impression a photo makes. Should the pictures be playful or serious? Polished or relaxed?
Create an inspiration gallery
There's a thin line between over-art directing and providing enough information to help your photographer understand the assignment and feel comfortable using their experience and talent to deliver the best images possible. One trick for communicating what you need without restricting your photographer's creativity is to create an inspiration gallery.
Look for existing images with ideas for photo composition, framing, and other logistical details. If you need inspiration for your inspiration, check out stock photography websites, photos from magazine articles, and even screenshots of other companies' custom photos. As you put together the inspiration gallery, add some high-level notes for the photographer explaining what exactly it is that you like about these images.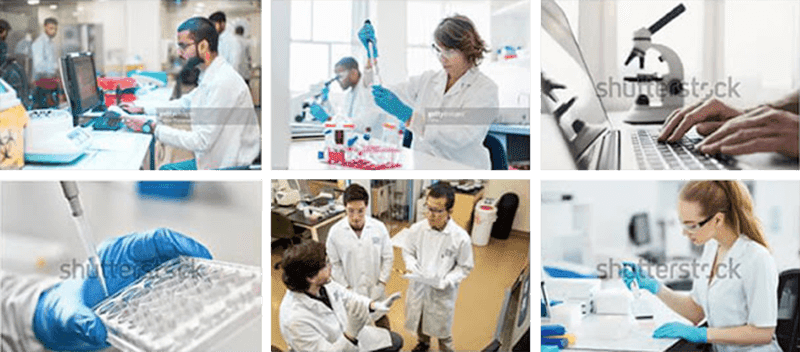 Using a vision board
If you don't have any brand guidelines or existing custom stock photography, during the photoshoot planning process you might find it helpful to supplement your inspiration gallery with a vision board. Are you looking for simple photos with clean backgrounds shot with natural lighting? Maybe you want images that convey movement and feature a vibrant color blue color palette? Or perhaps your goal is to get head-and-shoulder portraits with catchlights that make your subjects' eyes pop?
Define the characteristics you want, then find similar examples to create a vision board that gives your photographer a better idea of the mood you want.
Create a schedule and formal, written plan
Before the photoshoot, you need to finalize details for the session to get sign-off from your client or stakeholders and provide what-to-expect information to your photographer.
Some of the details you might include in this schedule and planning document might include:
Photoshoot locations/addresses
Proposed schedule, including start time with enough buffer for proper setup and lighting tests
Contact information for main people involved
High-level details about the purpose of the shoot and how the images will be used
Day of notes (what to avoid when shooting, etc.)
List of any supplies or props needed, as well as wardrobe recommendations, etc.
Your inspiration gallery and vision board
A shot-by-shot list of photos to take, or photography shot list
What is a photography shot list?
A photography shot list is a list of all the pictures—with a short description—that you want to have taken during a photoshoot. Acting as your best weapon against confusion, potential delays, and costly reshoots, this list is what your photographer will use to make sure they take all of the photos you need.
Managing all the day-of details ahead of time will help mitigate issues that may arise. Having a plan with multiple options and points of contact will help those present at the shoot have a plan b in case someone is late, doesn't show, or if shots are moving quickly or slower than expected.
It's a visual world, and photography is an essential ingredient for adding "wow" to attract your target audience and grow sales. Whether you're shooting custom photography for the first time or looking to get better results from your next collaboration with a photographer, the route to success starts with photoshoot planning.
Ready to start getting more from your marketing? Let's talk
You may also like: